Regency Fall Savings-Now until Dec. 3rd, 2023
4Seasons will be offering a significant discount of up to $900.00 on our inventory units in-store and on-stock items $400.00 off. Customers can also benefit from combining Regency's fall promotion deals with an additional $100.00 coupon from Regency and $300.00 Fortis rebate, making this the best deal of the year.
a Free Vent Kit on all Gas products (inserts, fireplaces, & stoves)
a Free Blower on all Wood inserts and stoves
a Free Mood Lighting Kit on all Electric fireplaces
a Free Log Set on all Electric inserts
a Free Log Set on all Outdoor Gas fireplaces
Contact Us To Save!
Fireplace Service in Victoria, BC from 4 Seasons
Fireplaces add a touch of cozy class to any home. Whether you're looking for a crackling ambiance, convenience, or energy savings – 4 Seasons can assist you in making the right choice for your living space.
Gas & Propane Fireplaces
We install natural gas and propane fireplaces in Victoria, BC and South Vancouver Island. We offer natural gas fireplace inserts from Hampton and Regency. Below are a few key differences between natural gas and propane to consider before selecting your fireplace.
Our talented and experienced team will be happy to provide you with a quality and lasting gas fireplace.
Natural Gas Fireplaces
Most modern gas fireplaces enhance your home with a push of a button. Remove the additional cost of wood and the labour that comes with it by opting for the convenience of gas. Using natural gas is also safe and clean, emitting very few toxic byproducts in the burning process. A high efficiency gas fireplace can contribute to substantial energy savings in your home.
Propane Fireplaces
Propane is extremely economical and burns cleanly and efficiently, so if warmth is your primary concern, a liquid propane fireplace could be right for your home.
Propane is a common choice among many home and cabin owners as it is less restrictive to the fireplace's location; as long as there's room for a tank, it's likely a viable solution.
Contact our experts to discuss the best heating solution for your home.
Benefits of Having a Fireplace
• Energy-efficient, eco-friendly, and cost effective heat source
• Is a back-up heat source during blackouts or unexpected weather conditions
• Offers a back-up cooking alternative
• Adds a romantic and cozy ambiance
Fireplace Installation Services by 4 Seasons 
The Better Business Bureau has recognized 4 Seasons Heating & Cooling in Victoria with the Torch Award for our quality services. From the moment you step into our showroom to the time our installation service is complete, our courteous staff will always treat you with respect. We recognize that a central tenet of our job is to provide you with the information you need to make an educated choice when it comes to choosing a fireplace or other heating and cooling solutions.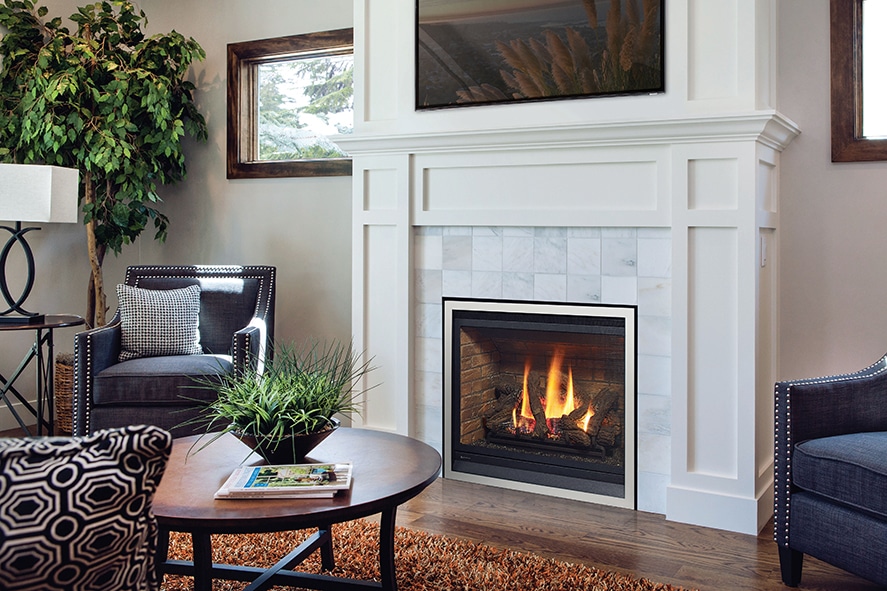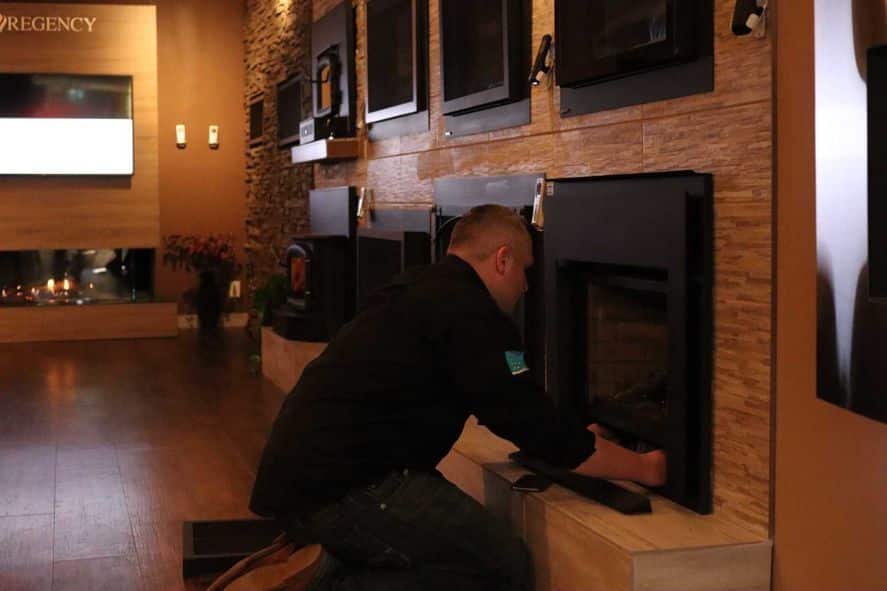 Owning a fireplace is a wise and enjoyable experience. If you're interested in having one installed or serviced, we can help. We have a team of courteous, knowledgeable and efficient professionals. We complete our fireplace installation services with a thorough cleaning of the worksite. Get in touch with us now for excellent service and a top of the line fireplace.
To all customers who have a Regency U37 or U39 gas fireplace, please contact our office at 250-652-0886.
We install fireplaces of these trusted brands.
Do fireplaces save on heating bills?
Depending on the age of your home, you may have baseboard heaters or oil heat. Fireplaces can dramatically save on your heating bills in these scenarios! For homes with electric or other forms of heating, it would depend on the size of your home and the primary use of the fireplace (heat vs. ambiance). Discuss with our team what your primary use would be and we can ensure we choose the most economical fireplace for your home.
Do fireplaces increase home value?
 Fireplaces do increase home value! They add coziness, a heat source, and enhanced interior design, which are sought-after elements for homebuyers. No matter what type of fireplace you have, where it is in your home, or where your home is located, your home will increase in value. For specific percentages, contact your real estate agent or appraiser.
Fireplace Repairs & Maintenance by 4 Seasons 
You can rely on the certified technicians at 4 Seasons for reliable fireplace repairs and maintenance. Some of the services that we provide include but are not limited to:
•  Clean glass and unit according to the manufacturer's guidelines.
•  Check the entire vent system and termination for condition and operation
•  An inspection of the explosion relief flappers and glass door gaskets to ensure a proper seal
•  An inspection of the burner, venturi, and air openings
•  An inspection of the gas valve, gas components, and pilot system
•  Refer to the manufacture's manual to ensure proper log placement
•  Verify correct operation of all optional equipment; fans, thermostats, remote control, safeties etc.
•  Keep the fireplace area clear and free of combustible materials, flammables or items that could be damaged from high heat.
What is the lifespan of a fireplace?
The lifespan of a fireplace varies, however most fireplaces need to be replaced somewhere between 15-25 years. Proper maintenance and repair are key to achieving a long lifespan.
Are fireplaces high maintenance?
Gas fireplaces are less high maintenance than their wood counterparts, but maintenance is still important. Even though you don't have the same upkeep as a wood-burning unit, anything flammable requires a regular inspection.